Formula 1 is back! DHL brings the Formula 1 VTB Russian Grand Prix to Sochi as part of an abbreviated 2020 season
Press Releases: Sochi 09/24/20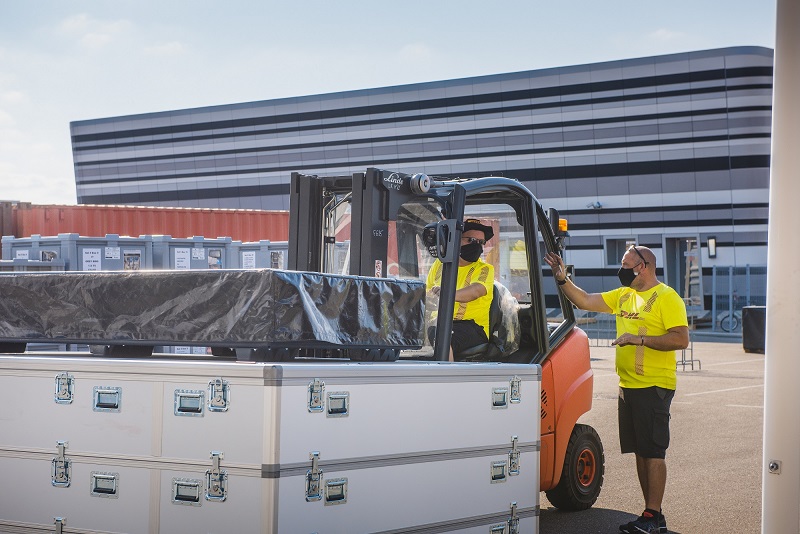 As Official Logistics Partner of Formula 1®, DHL once again takes the world's premiere motorsport series to its next stop: the Formula 1 VTB Grand Prix in Sochi (Russia). Following a number of races rescheduled due to the COVID-19 pandemic, the Formula 1 VTB Grand Prix will take place on the weekend of September, 25-27 as part of the revised 2020 Formula 1 season calendar. "With all the delays and challenges we've faced due to the pandemic, we're all the more excited to be back in Sochi, Russia helping deliver the thrill of F1 action to fans everywhere, and helping make this extraordinary 2020 season possible," says Adrian Marley, Managing Director, DHL Express CIS and South East Europe.
The Formula 1 VTB Grand Prix will take place in the Sochi Autodrom, the only circuit hosting Formula 1® races in Russia. It was designed by Tilke GmbH & Co. KG and officially opened in the Olympic Park in Sochi on 20 September 2014. The length of the Sochi Autodrom track is 5,848 metres. It runs around 2014 Winter Olympic Games venues. The track has 18 turns in total: 12 right ones and 6 left ones. Looking at a map of the track, your eye can't help but be drawn to the long Turn 3 - a 750m constant-radius left-hander.
Changing gears in 2020
In response to the COVID-19 pandemic, F1 announced that it would delay introduction of the new 2021 rules by a year (to 2022) and put a moratorium on new aerodynamics development in 2020 to help ease cost concerns for the teams. In line with this move, the FIA has approved a new, reduced cost cap for F1 teams lowered from the original figure of $175 per year to $145m, set to take effect in 2021.
Another response to the pandemic this year was Formula 1's first ever Virtual Grand Prix Series. Starting with the Virtual Bahrain Grand Prix on Sunday March 22 and through to Canada on June 14, fans could tune in via Formula 1's YouTube, Twitch and Facebook channels to enjoy a virtual version of canceled races, with current F1 drivers lining up on the grid alongside a host of celebrities. Though no official World Championship points were up for grabs, the Virtual Grand Prix Series achieved a record-breaking 30 million views across TV and digital platforms during the lockdown period.
Sustainability for the long term
In fall 2019, Formula 1 announced its sustainability strategy and target to achieve a net-zero carbon footprint by 2030, making Formula 1 the first motorsports series ever to commit to a measurable sustainability goal. "We were the first global logistics company to commit to a measurable climate goal and want to reduce our carbon emissions to zero by 2050," says Adrian Marley, Managing Director, DHL Express CIS and South East Europe. "So we're delighted to see Formula 1, our longest standing global partner, breaking new ground in sustainability, and we will certainly be helping Formula 1 achieve its goals as part of our partnership."
DHL expertise behind the scenes
As global logistics partner, DHL's "race before the race" ensures successful transport of Formula 1 equipment to Russia. For the Grand Prix weekend from September 25 to September 27, DHL has moved approximately 1,160 tons of equipment, including broadcast equipment and racecars for all teams. To reduce the need of air transport and increase sustainability, DHL relies on its highly efficient, multimodal transport network of intelligent ocean and road transport solutions. In addition to handling intercontinental transport, DHL supports Formula 1 with a dedicated team on site. DHL draws on almost 40 years of motorsports logistics experience, and has been Formula 1's official logistics partner since 2004.
"Formula 1 logistics is absolute precision work. Peak performance, accuracy and speed play as big a role here as in the race itself," says Yath Gangakumaran, F1 Director of Strategy and Business. "We're glad to have had the experts at DHL on our team for so many years now; they're a reliable partner with tremendous expertise – exactly what you need to master the logistical challenges of Formula 1. Moreover, DHL's years of experience with efficient logistics will play an important role in achieving our sustainability goals."
DHL Fastest Lap Award and DHL Fastest Pit Stop Award
DHL helps make Formula 1 even more exciting with two highly-coveted awards. Since 2007, DHL presents its Fastest Lap Award to the driver posting the highest number of fastest laps over the course of the season. World champion Lewis Hamilton took home the trophy in 2019, making him a four-time winner of the award and new record holder in the fastest lap category.
Since 2015, DHL has also presented the DHL Fastest Pit Stop Award, which honors the team with the consistently fastest pit stops over the course of the season. 2019 was a season of records in the pits, with prior-year winner Red Bull Racing breaking the 2016 world record a whopping three times before taking home the DHL Fastest Pit Stop Award for the year.
In addition to Formula 1, DHL partners with other famous motorsport series, including the ABB FIA Formula E, of which DHL is a founding member.